Hey guys!
And today we're 21 days into the countdown. Three weeks of spledid live performances and wonderful birthday wishes - I wonder if anyone on this planet has actually ever celebrated their birthday for a few weeks in a row? Let me know if you know about such thing.
What is the Birthday Countdown though? Throughout the entire month of February, one artist/one band a day is going to wish house in the sand a happy birthday and then perform a song exclusively for us.
Today Brooklyn Doran is here to celebrate with us.
Brooklyn Doran is a singer/songwriter from Ontario who is now based in Toronto, Canada. She's the writer of unique folk songs which blend elements of indie-folk, acoustic and jazz.
With storytelling songs consisting of beautiful vocals, warm guitar work and honest lyrics, it's no wonder Brooklyn has built herself a loyal fanbase.

Her debut EP called "There's A Light On" has received great critics so far. Well deserved, if you ask me.
And now, dear house in the sand readers,

go ahead and listen to Brooklyn's enchanting performance of her single

"Lansdowne"

,

exclusively played for us.
A massive thank you goes to Brooklyn for being absolutely lovely to work with and for being such a nice and talented lady. Can't wait to see what else you're up to, Brooklyn!


Please go ahead and share this performance with your friends by using the hashtag #HITSBC15.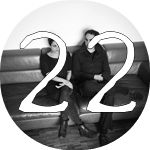 Credits // Text: Vanessa Jertschewske | Image: Brooklyn Doran / Adrienne Callan Photography | Video performance & camera: Brooklyn Doran | Video intro: Vanessa Jertschewske